Stylish Crafts for Your Home
Covering various design styles to suit your existing decor, from country florals to minimalist neutrals to the rich baroque colours and textures. Beautiful photographs of all finished items are accompanied by practical advice on choosing materials and finishes, hints and tips to avoid problems and pitfalls, and further decorating suggestions. Several techniques are included, from decoupage to pewter-work and mosaics, clearly explained with suggested alternatives. Brimful of inspiration and clever ideas, this title will help you add a touch of style and character to your home in no time without breaking the bank.
Prints Galore
In addition to tamping and stenciling, various relief methods of printmaking, including lino, texture plate and collagraph, the author has included four different types of screen printing and sun and cyanotype print projects as well as how to use rust and plant materials for 'eco' type printing. Transfer methods and altered art prints offer a different take on conventional approaches to this easily accessible art form. But by far the most exciting, and largest section of the book is devoted to monotype prints and monoprinting with the focus on gel printing.
Angie Franke uses her gelatin based printing pads (you'll get the recipe) and the commercial Gelli Plate – as well as a fascinating venture into clay bed printing – to explore monoprint methods in many different ways, drawing on other processes in the book to build fascinating results of richly combined layers of colour with stamp, stencil, mask and texture plate tools. Easy to follow instructions with stylish photographs will inspire anyone to give printmaking a go.
Nuwe Découpage
Tradisionele decoupage het 'n nuwe fase binnegegaan en hierdie titel is die vrug van maande se toegewyde eksperimentering met nuwe tegnieke, materiaal en produkte. Dit bevat die jongste ontwikkelings op hierdie gebied en verskeie variasies op meer tradisionele tegnieke. Uiteenlopende items soos keramiek- en porseleinbakke en -koppies, 'n portefeuljetas, 'n duvetsloop en 'n toiletsitplek is met verskieie nuwe en aangepaste decoupage-tegnieke en -afwerkings versier. Tegnieke en afwerkings wat geillustreer word, sluit in servet-decoupage (respousse sowel as papiervlakwerk), decoupage op papier-macheen seep, illumineerwerk, en decoupage uit die natuur met geparste blomme en blare, skulpe en vere. Daar is 'n afdeling oor herwinning met decoupage en elke hoofstuk is propvol wenke oor hoe jy jou nuutgevonde vaardighede kan gebruik om 'n onbeperkte verskeidenheid items te versier.
Découpage met Servette
Hierdie boek is weer eens met die aansteeklike entoesiasme en humor geskryf deur Tracy Boomer en Deborah Morbin wat vir rekordverkope van albei hulle ander boeke gesorg het. Tracy en Debbie deel hierin die kennis wat hulle met uitvoerige eksperimentering opgedoen het, in die vorm van volledige aanwysings vir elk van die meer as 30 projekte.
Decoupage met servette bring jou so na aan kits-resultate as wat in hierdie handwerkvorm moontlik is en van die projekte kan binne enkele ure voltooi word.
Die boek is propvol nuttige wenke en inligting oor materiaal en tegnieke, wemel van innoverende en oorspronklike idees.
Die projekte is fyn uitgesoek om 'n groot verskeidenheid basismateriale in te sluit
Elke projek is geïllustreer met 'n pragtige volkleurfoto spesiaal vir die boek geneem
Wysigings en alternatiewe word voorgestel sodat jy unieke items kan skep
Projekte sluit papiervlakwerk en driedimensionele decoupage in.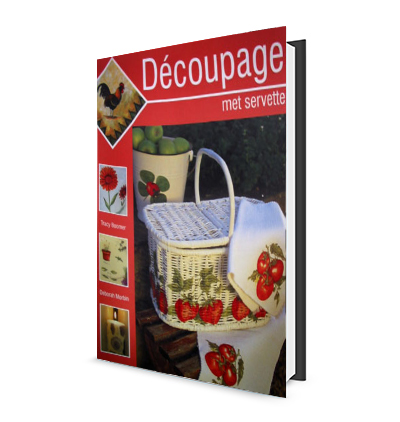 Contemporary dyecraft
Bring the dye-resist technique of the Hippy era into the 21st century.
Dyeing fabric to create interesting patterns and colours is an ancient craft, practiced throughout the world for centuries, and enjoying a resurgence in recent  in recent years. With this book dye specialist Melanie Brummer unlock the infinite possibilities of dyed cloth for the everyday person, using sumple techniques, household equipment and ready-made garments. Bringing the dye-resist technique of the Hippy era into the 21ste century, she shows you how to dye T-shirts for fun recycle your old clothes with colour, make the most gorgeous silk scarves or make a bold fashion statement with ready-made garments adorned with her tried and tested dyeing techniques.
With more than 50 projects to choose from, all graded according to the level of experience required, there is more than enough for both the beginner and the technically advanced crafter. Each project is explained clearly with step-by-step instructions and photographs, showing you how to create a wide range of stunning colour effects. Lavishly illustrated with specially commissioned colour photographs of finished items, this book also explains the chemical processes involved and gives guidance on the technical aspects of colour and dyeing.  It will help you transform your life from a drab blue blazer to a technicolor dream coat. Dip into it now and let your own special colours shine.
50 Silkscarves
How to colour and print your own silk scarves, achieving fabulous finishes.
A silk scarf has a special allure, embodied in its lustre and sheen in the light and the soft, silky feel of the luxurious fabric against your skin. Though feather-light it is wonderfully warm in winter and fantastic sunscreen in summer. This book teaches you how to colour and print your own silk scarves, achieving fabulous finishes. With 50 patterns and colourways to choose form, you can ensure that you always have the perfect accessory for any event or outfit, and enjoy the thrill of telling people that you've made it yourself when they compliment you on it.
The techniques in this book are simple enough for a beginner to master, yet offer lots of creative ideas for experienced colour crafters. Al the scarves are rated in terms of production time and level of difficulty, giving you ample opportunity to practice the different skills involved on easier projects before tackling more challenging finishes. Each project is explained clearly with step-by-step instructions and photographs, showing you how to create a wide range of stunning colour effects.
Recycled printing with found objects make up a substantial section of the book, and you will be amazed at the results you can achieve by using simple everyday items for printing. Also learn how to make your own lino blocks for printing, compose eye-catching designs and plan colour mixes that will dazzle and delight.